Mobile payment – Conversion done right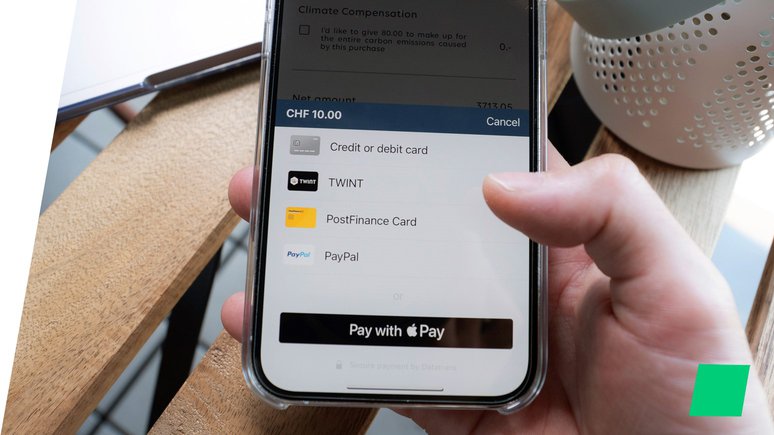 Especially in the mobile payment process, unnecessary clicks and unexpected page or app switches jeopardise conversion. The latest payment technologies offer a remedy.
One thing is certain after the COVID-19 pandemic: customers no longer want to go without the advantages of shopping online. Online shopping, whether at home or on the move, is booming. Services aimed at mobile devices are therefore becoming more and more important, as are convenient payments by smartphone or tablet. Unnecessarily tedious payment processes can quickly result in abandoned purchases. Help can be found with the latest payment technologies presented in this article. 
This is also relevant in brick-and-mortar stores, where the trend towards mobile solutions and «bring your own device» is also increasing. Instead of cards or cash, shoppers now use their smartphones more often at the checkout and scan their purchases themselves. Payments are conveniently made via contactless data transfer (NFC), via apps with an integrated payment function or via a QR code. Popular payment methods include Twint and Apple Pay in particular. Although reaching for the smartphone at the counter has not yet become as familiar as tapping a card on the terminal, mobile payment is growing in popularity, as the Swiss Payment Monitor 2/2021 showed. Migros SubitoGo or the checkout-free avec boxes as well as the FelFel refrigerators and Selecta machines, where customers can pay just as easily with their smartphones, are only a few examples of this accelerating trend.
Well-thought-out solutions for mobile devices are essential
Offerings geared towards mobile devices are an important part of the networked world of commerce. Smartphones and tablets give merchants direct access to their customers. They can increase the customer loyalty with an appealing user experience (UX) and situational offers, such as shopping lists or location-based push notifications. This doesn't always require a native app. Even a well-structured responsive website or web app can meet many needs. In any case, online shops and digital services must offer a seamless shopping experience throughout the entire customer journey, including on small screens.
Convenience and control strengthen the conversion
Convenience and control are especially important: customers always want to know where they are in the purchase process and what will happen to their data. If they lose track or don't feel in control of the processes, they will lose confidence in the worst-case scenario and abandon their shopping.
Especially in the payment process, every unnecessary click, every unexpected page or app switch and any lack of transparency in data processing put conversion at risk.
Payment and registration pages therefore have to be optimised for the limited space available and adapt to the respective end device. A clear presentation of all available payment methods and entry forms is just the beginning. Autocomplete input, smart animations and automatic cursor progression from one input field to the next reduce the risk of errors and support smooth payments.
Fast checkouts thanks to tokenisation, MITs and wallets
Tokenisation
It is much more convenient and secure when payment and billing information has already been stored. Tokenisation lies at the forefront of this field. This state-of-the-art technology converts the payment method details into tokens, substitute values such as an alphanumeric character string, and stores them in the customer profile with the merchant. No data entry is required for follow-up purchases, laying the foundation for a long-term business relationship. A certified payment service provider (PSP), such as Datatrans AG, takes care of the secure management of confidential data, so that merchants do not have to worry about PCI DSS compliance (Payment Card Industry Data Security Standards).
Merchant-Initiated Transactions (MITs)
Tokens can also move the payment process completely into the background. They are used to trigger what are known as «merchant-initiated transactions» (MITs). With the consent of the customer, merchants can charge the payment method once or recurrently at a later point in time, such as for subscription services or pay-by-use offers. The latter in particular provide the basis for a wide range of new business ideas and are becoming increasingly popular – for example in public transport, where check-in/check-out models enable flexible mobility.
Digital wallets and payment buttons
The digital wallets from Apple and Google also offer convenient checkout without registration. Buyers who have stored their payment cards and shipping information here can pay very quickly using the corresponding payment buttons. If they are logged into their account, they only have to select the service, check all card and delivery information and can then confirm the purchase with a fingerprint or facial recognition, for instance. The process is perfectly tailored to the end devices and is very intuitive. What's more, merchants can obtain all payment and delivery information directly from the wallet. In addition, the process meets the requirements for the strong customer authentication in accordance with PSD2. However, it is smoother than the 3-D Secure process, for example, and makes identity verification significantly easier.
Native apps for high customer loyalty
A dedicated app offers merchants many advantages: greater brand loyalty, more user-friendliness through perfectly adapted UX and the option of sending personalised offers. However, designing an intuitive user interface is expensive and integrating payment processes is technically complicated. But both must work without any problems for customers to use the app again and again.
For a seamless payment process, native apps should combine all of the above features and limit the entire process to the minimum number of absolutely necessary clicks. For this reason, automatic switching from the merchant app to the payment app and back, the option of scanning card data and integrated 3-D Secure 2.0 support are essential as well.
Payment service providers offer software development kits (mobile SDKs) for easy integration of the entire process into native Android and iOS apps. They enable merchants to fully delegate payment processes from the app to their PSP.
Convenience and control also for merchants
A convenient checkout completes a successful shopping experience – but its integration should be as easy as possible for merchants. Interfaces and SDKs developed with this in mind save a lot of effort here.
If several payment methods are to be available to choose from, it is well worth considering independent PSPs such as Datatrans AG. With them, integrating a single interface is enough to connect different payment providers and exchange them if necessary.
This not only reduces the cost of integration and maintenance, but also gives merchants full control over the entire payment process and the associated costs. With the Datatrans Payment Gateway, for example, merchants have access to over 40 payment methods and can choose from over 60 different financial partners. Changing financial partners, such as for the acceptance of credit cards or local payment methods, is possible at any time and with only minimal technical effort. This gives merchants freedom of choice, allows them to benefit from better offers and to adapt their payment processes easily to their needs. This way, their digital offerings are ready for the mobile future.