Custom-made instead of one size fits all – Datatrans' new Marketplace solution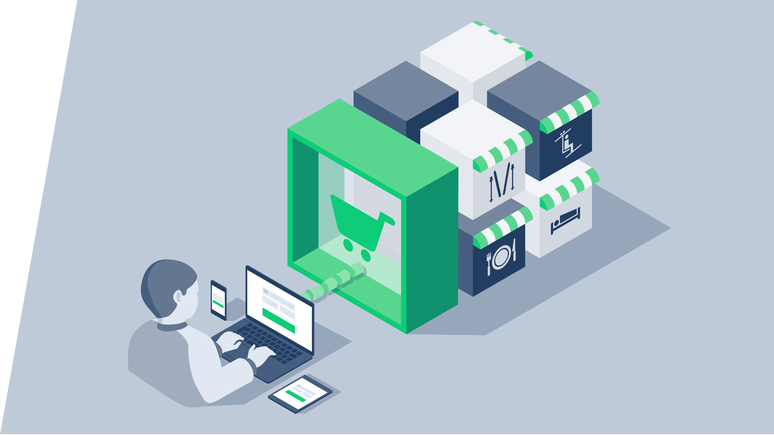 For online platforms and marketplaces: Whether you are building your very first online presence or already have an established brand, with Datatrans' unique modular approach you get full control over all elements of your payment process and can optimise them to your needs.
The process sounds simple: A person pays for its purchases on a marketplace and then different sellers get their share. However, the flow of money is technically and legally delicate. Therefore, online marketplaces, platforms and specialised intermediaries like Payment Service Providers or Collectors smoothen this process.
There are plenty of marketplace payment solutions out there. However, many of them are off-the-shelf-solutions, which offer only limited configuration options. Thus, making it difficult to optimise payment processes and fees. Datatrans' unique solution makes exactly this possible.
Marketplace modules for customized solutions
With our modular system you can configure all important elements of the marketplace payment process: the selection of the payment methods, the merchant onboarding and choice of acquirer for the acceptance of card payments. This way, you can put together your payment solution according to your needs choosing your preferred financial partners.
The module system will be continuously expanded in the coming months. The choices in the various elements are therefore still limited. However, they will be expanded in close cooperation with various payment providers in order to optimally meet the requirements of our customers.
Before explaining our approach in detail, let me briefly walk you through the basics of marketplace payment solutions. If you want to read about the Datatrans Marketplace solution without further ado, please click here.
What is a marketplace?
Marketplaces (or platforms) are business models that serve both sellers and buyers. They are becoming more prevalent and require a specific payment solution.
Marketplaces are more common, with many large online platforms being a form of marketplace. For example, booking platforms (such as vacation property listings) and retail platforms (which  consolidate multiple sellers). Marketplaces serve both retail and business customer (B2C and B2B).
Why is a specific marketplace payment solution needed?
Since marketplaces are in the middle, between buyers and sellers, they naturally become a financial intermediary when involved in the flow of funds. For this reason, they are required to follow a certain set of financial rules to ensure the safe flow of funds, while also protecting against fraud and financial crime. In the European Union, you must hold a Payments Licence to be able to provide this service. Payments is not the core business of a marketplace, and it does not make sense for platforms to hold a payments licence and manage the fund flows in their business model. This is where marketplace payments providers, such as Datatrans, can help.
What does a marketplace payment solution do?
A marketplace payment solution simplifies the process of accepting payments from buyers and routing it to various sellers. It handles the complexity of onboarding sellers (such as performing identity checks), receiving payments from various payment methods (such as cards and local schemes) and handling the pay-outs to the sellers. When using a marketplace payment provider, you also delegate the financial intermediary responsibility to them, while being able to focus on your business.
What are the core elements of a marketplace payment provider?
Before understanding the elements of marketplace payment, it is important to understand the parties in a transaction. At its most basic, it comprises of four key parties:
Sellers (also known as sub-merchants) – these are the businesses who present goods or services to be sold on the platform. For example, they can be physical goods such as fashion or electronics, or services such as hotel bookings, package deliveries, or other business services
Marketplace (or platforms) – this is the business that brings together the sellers and buyers in one place, and integrates a payment solution that allows for the flow of money from buyers to sellers
Buyers – these are the end users that purchase from sellers on the platform. Buyers are able to select goods or services on the platform and pay via one online payment (e.g. credit card)
Marketplace payment provider – this can either be a single integrated provider, or Datatrans' innovative marketplace model which allows transparency of components and choice of all the core elements (e.g. Acquirers, Collectors, and Payment Methods)
A marketplace payment solution has five core elements. These are:
Seller onboarding – sellers on the platform must be verified before they can receive payouts for their sales. The onboarding process – also known as the «Know Your Customer» (KYC) process – gathers usually details such as name, identity documents and trade register extract from the sellers to comply with financial regulations. The onboarding process can either be integrated into your platform (via API) or it can be outsourced to your financial provider
Pay-in – The marketplace provides buyers the option of how the buyers want to pay for their goods/services. The pay-in process is the combination of checkout method and the payment methods offered

Checkout methods can be hosted payment pages (e.g. redirects to Datatrans' Payment Page or integrated directly into the platform, such as mobile SDKs or direct API connection)
The payment methods offered includes credit cards (such as Visa, Mastercard and American Express) as well as local payment methods (such as Twint, Postfinance Card and SEPA)

Split payments – is something that is optional and dependant on the business model of the marketplace. Split payments allow the buyer to combine multiple items from various sellers into one checkout. This is most relevant in the retail and hospitality sectors. For example, a customer organizes a ski weekend on a booking platform. Making only one payment for multiple services, they book a hotel room, lift passes and a meal package from a restaurant. This involves one payment which needs to be split among three different businesses. Split payments are also known as mixed baskets
Marketplace Commission – the marketplace provider is able to charge a commission for every sale. This can either be a fixed fee, or a percentage amount. It can be variable from each seller (or sub-merchant)
Pay-out – after a set of goods or services have been paid for, the pay-out process involves sending a bank transfer for the amount to the relevant businesses. It also includes the pay-out of the commission amounts for the marketplace operator (or platform)
What is Datatrans' modular system for marketplaces and platforms?
There are several options available when choosing a marketplace Payments Service Provider (PSP). The majority of PSPs provide an all-in-one offering (onboarding, payment methods, payout process) with fixed rules, availability of payment methods and fees.
Datatrans is a Payment Service Provider with a focus on transparency and freedom of choice. With the modular system we pursue a unique approach giving you the full optionality of how you configure the important elements. This is only possible because Datatrans is independent from financial service providers and therefore, is not involved in the fund flow.
The graphic below illustrates our solution using the example of a customer organizing a ski weekend on a booking platform. With just one transaction, they pay for the hotel, the ski lift and the restaurant, while at the same time the commission for the marketplace operator is deducted from the sum. Datatrans takes care of the logic of the data flow, making sure that the payouts to the marketplace and the sub-merchants take place properly.

With Datatrans Marketplace, you have the following options:
Unified pay-in – Datatrans' Payment Gateway gives you the choice of the customer checkout flows; either via Redirect or Lightbox to our Payment Pages, or other integrations such as Secure Fields, Mobile SDKs or Direct API Connection. Additionally, our parametric approach means that you can customise the checkout experience based on the geography of the customer, and offer the payment methods that make sense to them
Choice of Financial Partners (1)

Acquirer – Financial provider, also known as acquirers for card payments, allow acceptance for Credit Cards (such as Visa, Mastercard and American Express). You will not have to be locked in with one acquirer, but can select the one that offers the best conditions and fees for your business model
Payment method – the ability to choose the payment methods that are important for where your platform operates (for example, Twint and Postfinance Card in Switzerland)
Also needed for every marketplace is a Payment Collector. The collector is the licenced financial provider that manages the onboarding process of sellers, and also the pay-out process. Different collectors have different seller onboarding requirements and payment methods they support. Datatrans is currently connected to two Payment Collectors and will advise you according to your business needs. Bellows graphic summarises our approach.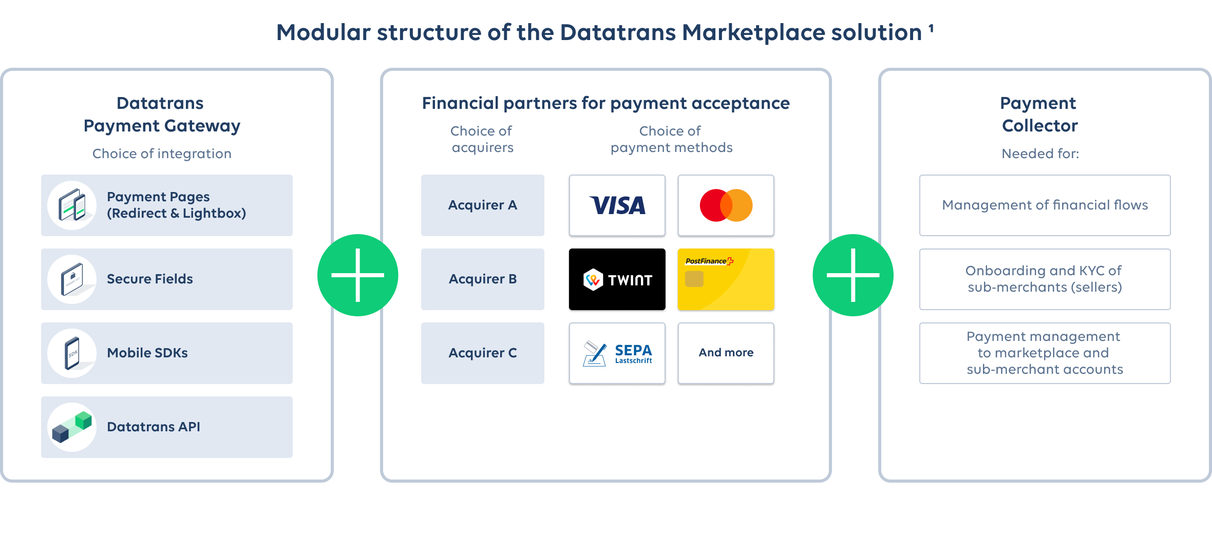 Whether you are a start-up or established business, Datatrans' flexible approach can provide you a solution that matches your business model and size. If you are interested in our Marketplace solution, the New Ventures Team looks forward to receiving your enquiry and to advise you at [email protected]h or by phone on +41 44 256 81 91.
(1) Under development. Currently limited number of acquirers and collectors. Currently available payment methods are Apple Pay, Google Pay, Mastercard, Postfinance Card, Twint and Visa.