Wallets and payment buttons – Paying can be this simple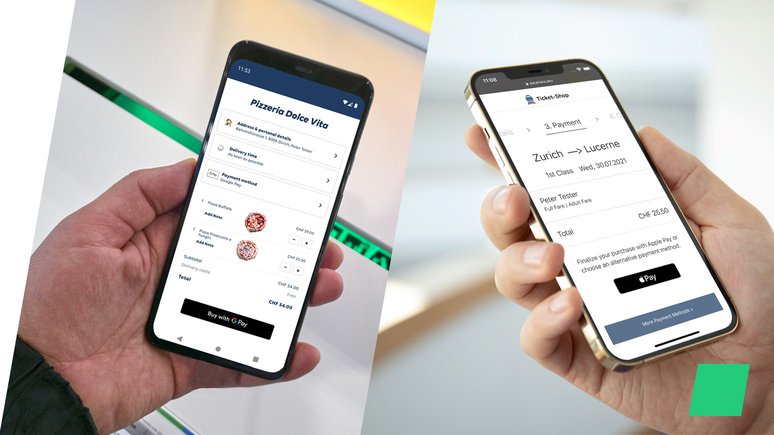 Online payment processes often take several minutes – a lot of time to be interrupted. With the wallets and payment buttons from Apple Pay and Google Pay, you can make the checkout process smoother and faster for your customers.
The shopping basket is full, a little extra from the sale, and then quickly to the checkout. However, it's usually not that easy. On the contrary, now the customers have to enter tediously card details, passwords and shipping information – and the shopping mood drops with every additional click.
However, with digital wallets and payment buttons, things can be different. The USA is once again at the forefront. In the United States, 76% of merchants already enable payments with one or more buttons, thus simplifying checkout for their customers.(1)
With Apple Pay and Google Pay, Datatrans offers two user-friendly payment methods that make closing a sale a secondary matter. Senior Product Manager Simon Schweri explains the benefits they bring with regard to PSD2 and how you can use them for your shop.
 
How does paying with Apple Pay and Google Pay work?
Simon Schweri: More and more customers are using the digital wallets on their Android or iOS devices in which they have stored payment cards and shipping information. If they are logged into their Apple or Google account, they simply have to select the relevant service to pay, quickly check all the card and delivery information and can then confirm the purchase with a fingerprint or facial recognition, for example.

The entire process is perfectly tailored to the end devices and very intuitive. Customers no longer have to enter details or one-time passwords and merchants can obtain all payment and delivery information directly from the wallet. In addition, the process meets the requirements for strong customer authentication in accordance with PSD2. However, it is smoother than e.g. the 3-D Secure process and makes identity verification significantly easier.

What integration options are available?
Simon Schweri: We offer two different integration options that automatically display either Apple Pay or Google Pay, depending on the device and browser. For end customers, the most convenient option is the payment button directly on the product page, in the shopping cart or at the checkout. Purchase impulses are thus quickly and easily satisfied.

Furthermore, Apple Pay and Google Pay can be integrated more simply into the payment page hosted by Datatrans. Here you can also display the payment method prominently above all other payment methods if customers can use it to pay more easily (see image below). For this purpose, the payment page automatically detects whether an active card is stored and – for Android devices – whether the customer is registered in the wallet.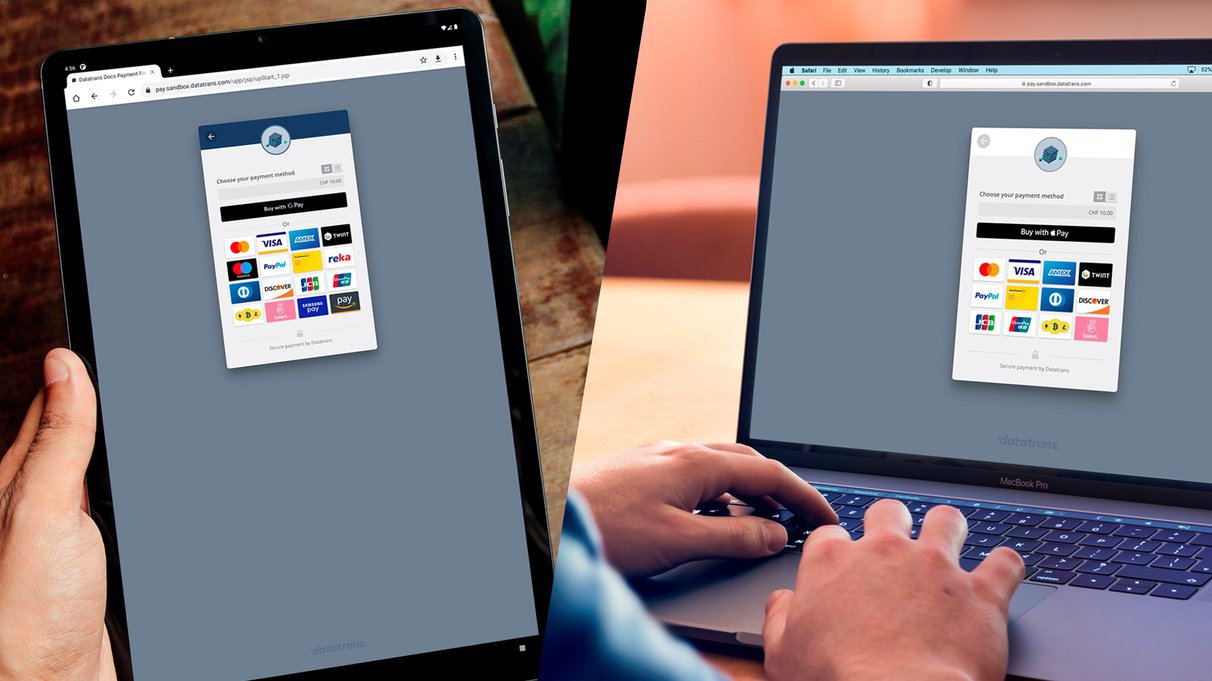 How are Apple Pay and Google Pay already used in the retail sector?
Simon Schweri: Wallet and payment buttons are not yet widely used in online shops, but they offer a great deal of potential for customer-friendly checkouts, especially with mobile devices. Mobile payment is becoming increasingly established in everyday use and number of users has increased significantly in recent years.(2) Due to the pandemic, mobile offers have undoubtedly received an additional boost.

Apple Pay and Google Pay are also being used increasingly by our merchants across numerous industries, such as retail and mobility. Two thirds of all transactions are carried out via a smartphone. This is not surprising, as they offer particularly good usability here. Overall, we are observing a very high transaction success rate, which are also completed within a few seconds. This is noteworthy when you consider that the customer must check, approve and confirm his identify for each payment. It is also interesting that the size of the shopping baskets varies quite a bit. Customers use the wallets for small amounts, such as public transport tickets, but also for more expensive purchases over 150 francs.(3)
What should merchants who want to integrate Apple Pay and Google Pay consider?
Simon Schweri: First of all, the payment method must fit the business model. It offers the most benefits in trading with simple products and in situations in which fast, smooth payment ensures sales success, e.g. for guest checkouts or ticket purchases on a smartphone. The payment methode can only be used for customer-initiated transactions.(4)

One small weakness: depending on the scheme, there is no liability shift to the issuer. However, this is outweighed by the fact that the transactions are very secure thanks to the biometric protection mechanisms and particularly customer-friendly payment processes that strengthen the conversion rate and customer loyalty.

It is advantageous that you can use your existing financial partners for the acceptance of card payments for the transactions and that no extra fees are incurred. Registration with Apple and Google is also free and usually done quickly.

How can merchants try out these payment methods?
Simon Schweri: If you would like to test the payment buttons, you can find a demo version here. If you want to use Apple Pay and Google Pay on the Datatrans payment page, you can activate and deactivate them in the back office without technical effort. To do so, please contact our support team at [email protected] or +41 44 256 81 91 for the initial activation of payment methods. Our team is also happy to answer any further questions you may have about integration or activation.
(1) PYMNTS.com BuyButton Issue February 2021
(2) Swiss Payment Monitor 2020
(3) Analysis of randomized samples with the Datatrans payment page with prominent display of Apple Pay and Google Pay.
(4) An earlier version of the text stated that Apple Pay and Google Pay can also be used for merchant-initiated transactions. However, this is no longer available due to a change in the regulations of the card schemes announced for April 2022. We have updated the text accordingly.