New iOS and Android SDKs for easy payment in apps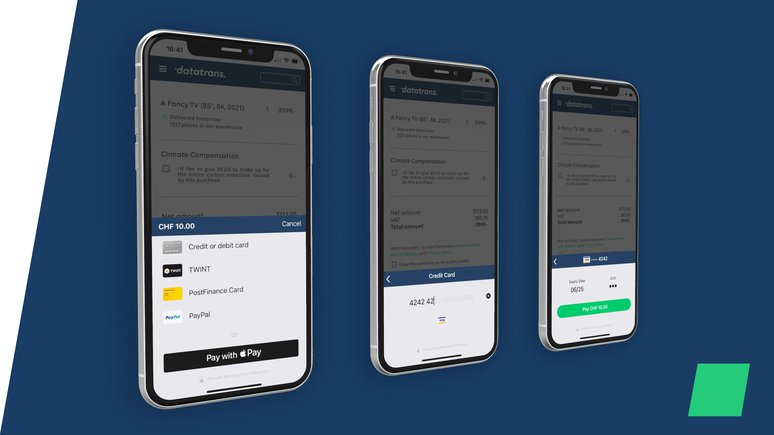 A smart integration for you, and an even smarter checkout for your customers – the new Datatrans Mobile SDKs for native apps make it possible.
For a merchant, having your own apps offers a range of benefits: Greater brand loyalty, greater customer friendliness and the option to send personalised offers. However, to reach their full potential, apps must provide a convenient shopping experience throughout the entire customer journey. A smart checkout can be the decisive factor between a purchase and a non-purchase and rounds off a successful user experience.

However, here is also where the problems can start. The design of an intuitive user interface is complex and the connection of payment processes is technically complicated, especially if several payment methods are to be available. In turn, shoppers often have to work through too many checkout steps to complete their purchase – which can lead to unnecessarily abandoned purchases.

These are exactly the points we have addressed with our redesigned Mobile SDKs. Your customers will benefit from a state-of-the-art user experience that enables them to pay in just a few clicks, and your development team will benefit from even easier integration.
Effortless acceptance of app payments
Our Mobile SDKs support the entire payment and registration process in native iOS or Android apps. With one simple integration, you can fully delegate the payment processes from your apps to us. We process all transactions in a secure and PCI DSS compliant manner.
The new SDKs offer you:
Simple integration of different payment methods: With a single interface, you can integrate different payment methods, including card payments, Twint, Apple Pay or Google Pay, into your iOS and Android projects. Your developers can find all the details for effortless integration in our technical documentation.
Token solution for quick checkouts: Save your customers' preferred payment method for future use and make checkouts even more convenient. This means that you can easily process Fast Checkouts via the SDKs or offer a selection of several tokens in the payment process.
3-D Secure 2.0 support included: Our SDKs support the latest authentication standards from 3-D Secure and take care of the entire security process. The SDKs automatically redirect your users to the strong customer authentication if required.
Smooth app switches: If you offer Twint or PostFinance Card, which require transactions to be confirmed in a separate mobile app, the SDKs switch seamlessly between the apps for convenient purchase.
Theme support for individual design: The SDKs support separate themes for iOS and Android native dark mode per default. Furthermore, you can design different elements of the payment process according to your corporate identity.

The Mobile SDKs are currently in beta. You can find all current information on integration, including repositories, request examples or integration tips in our documentation. In the future, new features will only be published for the new SDKs. However, we will continue to provide bug fixes and security patches for the old mobile SDKs until further notice.

If you are interested in the new Mobile SDKs, we look forward to receiving your enquiry and to advise you at [email protected] or by phone on +41 44 256 81 91.