Commerce Report Switzerland 2021: Management Summary «Focus»
Extract of the Management Summary «Focus» of the Commerce Report Suisse 2021
The coronavirus has changed the world – this statement also applies in the context of the distribution of consumer goods. Where stationary retail used to dominate sales, today the networked world of commerce is decisive for how we shop. It offers us an unparalleled array of services from many, highly differentiated vendors, both on the stationary and online. This is the main finding of this year's study on the development of sales to consumers, which has been published annually since 2009. After the first issue of Barometer, published in June 2021, carried out an assessment of the situation following the tumultuous coronavirus year of 2020, this second issue Focus examines the changes in the vendor landscape. The study results are primarily derived from the statements of experts on the study panel and supplemented with results from other sources as well as the observations of the study authors.
Consumers will benefit from an even more diverse range – and will be able to choose the distribution channel!
A tipping point in the consumer goods industry
At first glance, you might think that the COVID-19 pandemic has given only a one-off boost to the growth in e-commerce that had already been underway for a number of years. However, a closer look shows that the year 2020 marks an epochal change. This can be determined from a number of observations.
At the social level, the consequences of working from home, increased time at home, restricted mobility and travel options as well as changed consumer values are becoming apparent. All of this is having a significant impact on the forms of consumption. Some changes are expected to last well beyond the crisis, such as more flexible ways of working as a result of working from home, and fewer business trips due to greater familiarity with digital meetings. With the shifts in people's daily routes and whereabouts, footfall at business locations is also changing. The variety of different daily routines has increased and is accompanied by a new variety of altered shopping needs, both in-store and online. Shopping should be close, simple and sustainable. Enjoyment associated with consumption should not be burdened by a bad conscience. Here the demands on vendors are clear.
At the personal level, the degree to which people are caught up in their shopping habits has become apparent. Corona has forced them to change behaviour. The diversity of the modern world of commerce, in particular online and cross-channel offerings, has been rediscovered. The lockdowns resulted in a reset of shopping habits and greater familiarisation with the use of smartphones and e-commerce.
The current investment boom will continue to fuel e-commerce and omnichannel.
The effects of these changes are becoming visible at the vendor level. Almost overnight, e-commerce became a substitute for the closed stores. As a result, all vendors shifted their efforts towards expanding their online and digital expertise. Channels were reassessed, strategies adapted and investments approved. In the future, leaders in e-commerce and omnichannel are expected to achieve a significantly higher level of performance. By contrast, the future prospects for retailers left behind by the digital world are deteriorating. Brands and manufacturers took the weakness in retail as an opportunity to gain direct access to customers themselves. Top brands openly state that they want to massively increase the amount of direct selling they engage in. On the other hand, retail remains indispensable for them – this calls for a reevaluation of how functions are divided.
Networked world of commerce – what does this mean?
The retail trade in consumer goods experienced two significant upheavals in the space of 20 years.
The retail trade in consumer goods has been characterised by stationary commerce for decades. The turn of the century marks a first tipping point (Fig. 1): online providers began to establish themselves with new ways of working and innovative concepts around online shops and digital platforms. They challenged traditional retail. Two parallel worlds emerged and customers knew how to intelligently switch between them. For vendors, this means a loss of control and increasing expenses in order to acquire and retain customers. Physical vendors are trying to resist this with omnichannel concepts, while online vendors are integrating stationary touchpoints. For cost and competence reasons, they are reaching their limits. The alternative is more specialisation and cooperation. While online vendors are familiar with operating in networks – even with competitors – traditional vendors have long rejected this approach.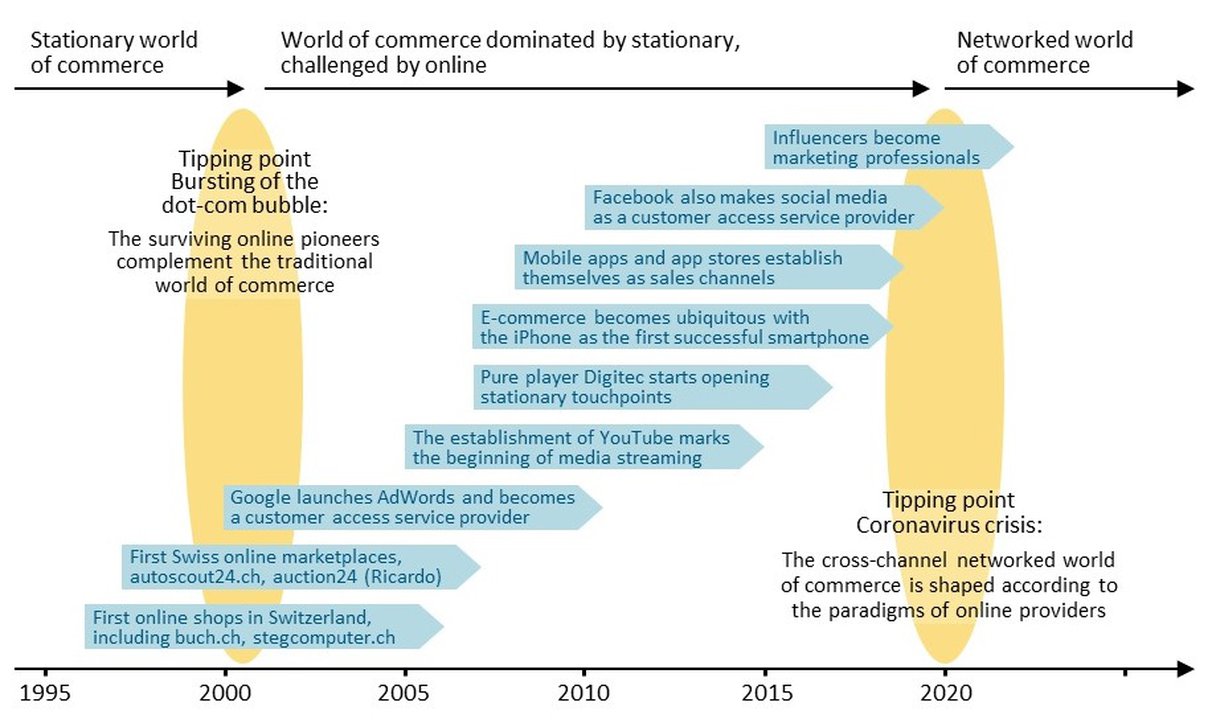 Fig. 1: The encroachment of e-commerce into the traditional world of commerce, represented between the tipping points of two epochal changes.
Crisis is a catalyst for transformation.
The second tipping point came no later than when the dam broke with the coronavirus crisis. The accelerated shift to e-commerce is forcing stationary vendors to offer their products and services in the online world. In multi-channel companies, this initially takes place internally and begins with breaking down the organisational silos and establishing connectivity. The connections gained are resulting in a new, crossvendor and cross-channel networked world of commerce. This is characterised by the fact that vendors can provide services that they partially source from external sources. At the same time, they can monetise their own resources in the offers of external vendors. For consumers, the flexibly accessible market offering is becoming even wider and more attractive.
Other topics of the Management Summary:
Superior paradigms of online vendors
How will the networked world of commerce continue to develop?
Click on Download to obtain the complete study 2021 in German and the complete management summary in English and French for free, as well as all past reports.