Scan, order, pay: the new way of eating out.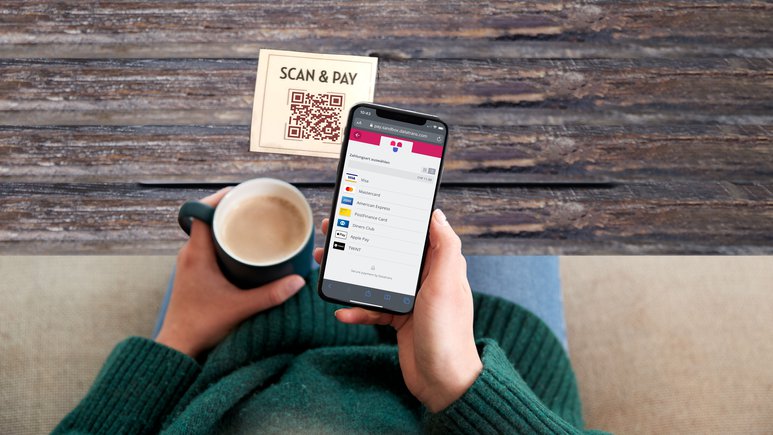 With the software solution from Yoordi and Datatrans, restaurants benefit from smooth digital payment processes and have more time for providing hospitality.
"Can I have the bill please?" indicates the end of a customer's dining experience at a restaurant. But often that's when the wait begins, particularly during peak periods, such as lunchtimes or at the weekend, when restaurants can be extremely busy and waiting staff can be rushed off their feet. Taking orders, serving food, dealing with requests, making up bills and clearing tables is a logistical feat that can test customers' patience. 
This is where Yoordi's innovative software solution comes in. Using their smartphone, customers can place their order and pay for it directly at the table really easily, via a QR code. No app to download. No waiting. No rummaging for cash. A detailed description appears, with ingredients and allergens and enhanced by images, when the customer chooses a dish from the digital menu. The order can then be placed and the bill settled in just a few clicks.
The simple payment process is made possible by Datatrans. As a result of the integrated interface from the Swiss Payment Service Provider, Yoordi can not only offer popular credit cards as a payment method, but also innovative wallet solutions, such as Apple Pay, Google Pay and Samsung Pay. So there is no tiresome typing in of card details. For customers, the payment process really does take a back seat. Another benefit is the personalisation feature that enables the Datatrans payment page to be integrated harmoniously into an existing corporate design – for a seamless and familiar ordering experience, right down to the last click.
The human aspect of eating out is not lost with the digital solution either: "Quite the opposite! The less staff have to bother with payment and bills, the more time they have for personal interaction with customers, serving meals and attending to customers' requests," says Yoordi founder Jörg Wasmeier. He also makes reference to the positive feedback received from satisfied restaurant businesses, such as Bindella and Helvti Diner, where the solution provided by the Gehrig Group is already being used.
Yoordi has also found an answer to the current restrictions on restaurants, in the form of a smart take-away solution. Meals from various restaurant partners can be ordered at home and collected from a local branch. In view of the increased hygiene measures that will apply, the Yoordi solution is also the perfect fit for when bars and restaurants reopen, since there is no use of payment terminals or handling of cash.