Innovative payment methods: how to succeed in the Swiss premium market.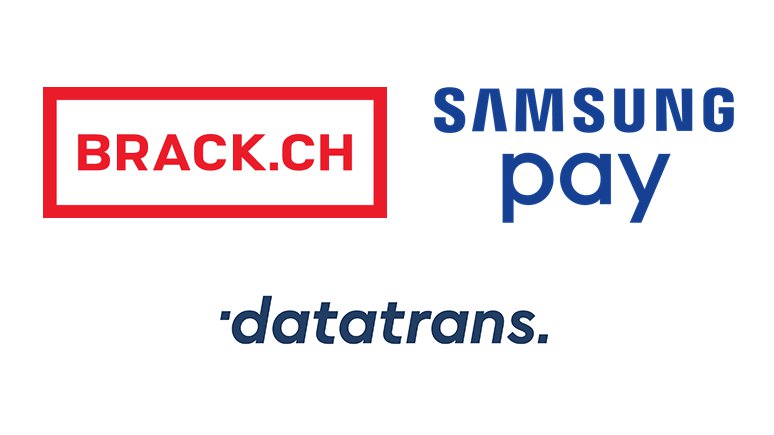 Datatrans is collaborating with BRACK.CH and Samsung Pay to provide unique shopping experiences.
What is needed to excite tech-savvy customers in the premium market? An online shop that breaks new ground, a payment service provider that loves simple solutions and an innovative payment method with great potential. BRACK.CH, Datatrans and Samsung are doing business together and it's a win-win situation for everyone.
Situation / Cashless payments in the premium market
Switzerland is a premium market. Tech-savvy customers have the very highest expectations of products, and their payment solution too. They prefer "cashless" shopping, requiring just a few taps on their smartphones. Big online marketplaces are vying for customers in the battle to provide the best shopping experience. 
Challenge / Easy integration for innovative payment solution
Platforms which focus on the user experience and make the payment process secondary will gain further market share. Swiss online shop BRACK.CH identified the trend early and took up the challenge along with partners Datatrans and Samsung. 
The search was on for a simple way to integrate the innovative Samsung Pay wallet solution into the online payment process. BRACK.CH CEO Marc Isler explains his choice: «With around 1.2 million compatible smartphones and therefore potential users, Samsung Pay has great potential for us». 
Solution /

«

Samsung Pay as a service

»

 
Integrating Samsung Pay into Datatrans' checkout options meant that BRACK.CH was able to use the existing interface. Datatrans simply offered the new payment solution as a service. BRACK.CH connected Samsung Pay to its online shop and started benefiting from the advantages immediately. 
Selected shopping offers are now displayed directly in the user's mobile wallet. At the same time, Samsung Pay displays BRACK.CH vouchers and other incentives to its users to stimulate further purchases. «This means we can offer our customers an effective solution that meets all their needs in terms of security, user friendliness and speed», confirms Marc Isler with satisfaction. «Integration of Samsung Pay reflects the mood of the times,» adds Beatrice Gloor, retail expert with Datatrans. «People want to make purchases wherever and whenever it suits them. They're not bothered whether they are made online or offline or whether the experience is omni-channel or multi-channel. The situational context is a decisive factor. Smart, modern payment methods that drive the conversion are essential to successfully closing a sale.»
Result / From online start-up to digital champion
BRACK.CH has used its entrepreneurial skill and carefully honed awareness of trends to create a special shopping experience for its customers. Integration of Samsung Pay as a new, innovative payment method makes BRACK.CH a pioneer in Switzerland. With its user friendliness, speed and intuitive processes, it's hardly surprising that BRACK.CH was recently crowned Digital Commerce Champion 2019. 
«Our partnership with Datatrans and Samsung Pay means we have been able to appeal to new customer segments, achieve greater conversion rates and create a unique customer experience», states Marc Isler with satisfaction. Samsung Country Manager Dario Casari also has praise for the fruitful cooperation: «Samsung and Datatrans are both keen to offer their customers a versatile, high-quality range of new payment solutions, so the collaboration perfectly complements all the businesses.»

Like to find out more? Interview with Marc Isler and Dario Casari >