E-Commerce Report Switzerland 2018: Management Summary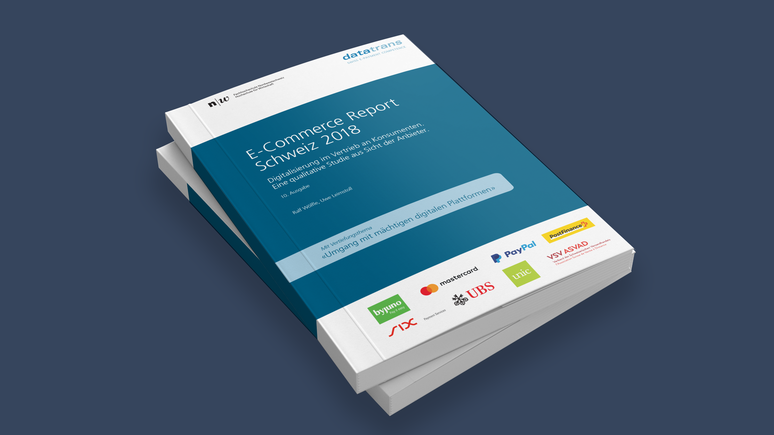 E-commerce in Switzerland: Foreign providers in the fast lane. Global competition is now also affecting Swiss online commerce.
Extract of the Management Summary of the E-Commerce Report Switzerland 2018
The E-Commerce Report Switzerland is a series of studies on the development of business concepts for the sale of products and services to private consumers, with special emphasis on the use of connected information technology. This report is the result of the tenth comprehensive survey of 35 e-commerce providers potentially shaping the Swiss market. The findings are mainly derived from experts' statements.
Tense reality 
From an outside-in point of view, 2017 appears to have been a normal, good year for ecommerce: Swiss consumers ordered 10% more goods on the Internet than in the previous year. However, 38% of the growth is attributable to foreign vendors which gives cause for concern. Their share of Swiss e-commerce has reached the one-fifth threshold. In the past five years, foreign vendors' growth has been more than three times greater than that of Swiss vendors. So it is not good news if Amazon accelerates its export processes to Switzerland or if the Chinese vendors JD.com and Alibaba invest billions in the development of their logistics networks for Europe.
The change has just started
Global economic shifts are by no means the only cause for concern. The increasing shift in demand away from individual providers and towards digital platforms is causing providers to lose control, especially when it comes to access to customers. This is associated with a loss of vertical integration – the disruption of the traditional retail value chain is continuing: specialized technology companies outperform generalist retail companies. The existing performance level is still being expanded, whilst consumer expectations are also increasing. Distribution structures are also changing: linear distribution chains with stable roles and business relationships are turning into multilateral distribution systems.
The increasing importance of platforms is also evident in the service industries. Since services map easily to IT, i.e. with a digital ticket, it is easier to use technology to simplify processes. New app-based solutions for seamless payment are a current example. 
It has become apparent in 2017 that large internet players will also bring their expertise to the bricks-andmortar retail sector. Traditional retailers have often neglected the logistics potential for local orders in terms of the goods available in store and customer identification, data generation and payment processing. But that will change. In logistics, foreign providers are the first to tap into the potential of proximity. The successes achieved so far by digitalization in traditional retailing are quite moderate. Only a few companies have become part of a connected and diverse retail world.
The emphasis on the critical aspects in this summary reflects the change in mood of the study panel. Initially, everything is set to continue as before: the bricks-and-mortar sector will continue to grow, a considerable number of Swiss online providers will continue to grow, access to customers will continue to shift to digital platforms, and there will be fewer Swiss providers in the Swiss e-commerce top ten rankings. The study participants fear that they will lag behind as the market opens.
Other topics of the Management Summary:
Terme E-Commerce
Sales performance
Bogey team
Swiss online marketplaces with goods
Prospects for the Swiss retail sector
Logistics as a competitive advantage?
Dealing with powerful digital platforms
Ongoing transformation in retail
Seamless Payment
Click on study archive to obtain the complete study 2018 in German and the management summary in French and English for free, as well as all past reports.