E-Commerce Report Switzerland 2019: Management Summary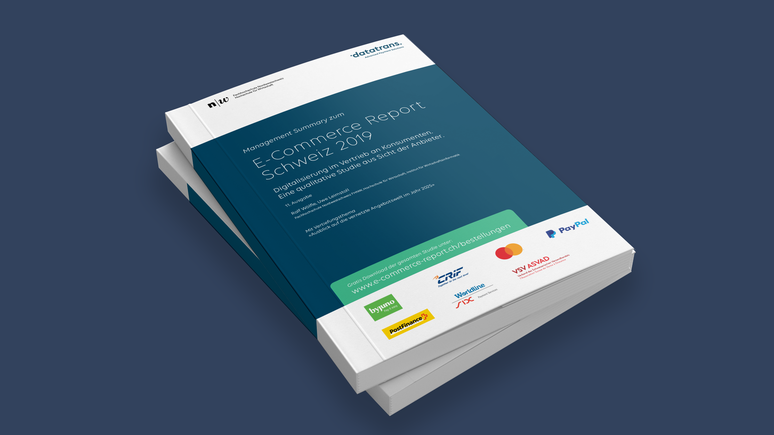 From mass products to individual value. E-Commerce in Switzerland in 2019: Part of a connected world of supply in which values are changing. Trade and distribution face lengthy adaptation process.
Extract of the Management Summary of the E-Commerce Report Switzerland 2019
The E-Commerce Report Schweiz is a series of studies into the development of business concepts for the sale of products and services to consumers, focusing in particular on the use of networked IT. This report represents the result of the 11th comprehensive survey of 35 e-commerce and multichannel providers that are potentially significant for the market in Switzerland. The findings are derived primarily from the expert statements.
2018 – stability in one of the better years
Purely from the perspective of the figures, 2018 saw a continuation of the e-commerce trends that had already been identified in previous years. Consumer online spending in Switzerland rose by 10%. Foreign providers once again increased their share disproportionately, and now make up more than one fifth of the market. All of the study panel members expect e-commerce to continue to grow in their sectors, both in the current year 2019 and through to 2025. At least half even anticipate that e-commerce will more than double in value within six years. The companies on the study panel described 2018 as the best of the previous five years, based on average sales growth. Most companies are still retaining their profits. 70% of the study panel reported that they are making the most of the investment
potential available to them.
Unavoidable pressure for change
Sales in the Swiss retail sector fell once again overall in 2018 and have yet to return to the level achieved 10 years ago. Swiss providers are losing market share in the growing e-commerce sector, and the revenue situation is unsatisfactory on the whole, despite the good macroeconomic conditions. Although some commentators believe that the market may be rebalanced if one or two more players were to quit, as has happened with Charles Vögele/OVS, others predict that the current revolution in the way goods and services are being distributed will continue. However, the direction of travel is uncertain.
A diverse, networked world of supply 
Web platforms such as market places and search engines have become a significant part of the distribution world, even if they are not involved in actual service delivery. What they are doing, however, is placing the customer at the centre of the entire sector. Businesses are closer to customers on smartphones than they are in their retail outlets, the role of which is under serious threat. At the same these platforms increase price pressure and attract some of what is left in terms of margin. As a result, the cost structures of the old, linear distribution silos are no longer financially viable.
Manufacturers, wholesalers and retailers are all under pressure. They must explore new potential income streams, possibly even invent them for themselves, and focus all their efforts on these. This requires greater and more flexible forms of cooperation, in a connected world of supply, especially in relation to the handling of data.
Trade and distribution face lengthy adaptation process
A new focus is emerging from this difficult process of adaptation. The personal benefit for each individual customer is now at the core. A product only derives value in connection with very specific properties or additional services that are important to the individual customer. And this is only possible if the entire sector changes its perspective. It is now the customer who decides what adds value. We are witnessing an evolution from mass products to individual value.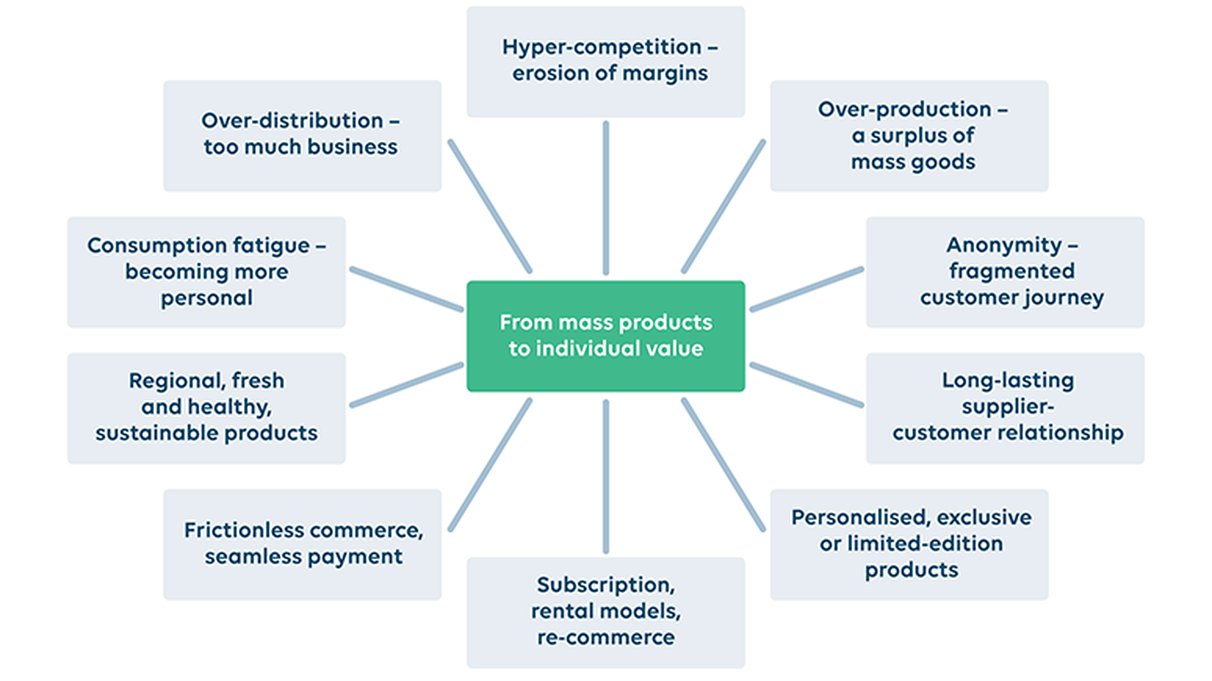 E-Commerce in Switzerland in 2019: Part of a connected world of supply in which values are changing.
Other topics of the Management Summary:
Definition of e-commerce
Distribution disrupted
Sustained process of change in distribution from 2018 to 2025
A new view of distribution
Power shift towards digital platforms
Online retail situation
Situation for traditional retailers
Situation for brand manufacturers
Aspects of a multi-connected network of supply
Click on study archive to obtain the complete study 2019 in German and the complete management summary in English and French for free, as well as all past reports.