«In a digital, technology-based environment, our culture is the foundation for success.»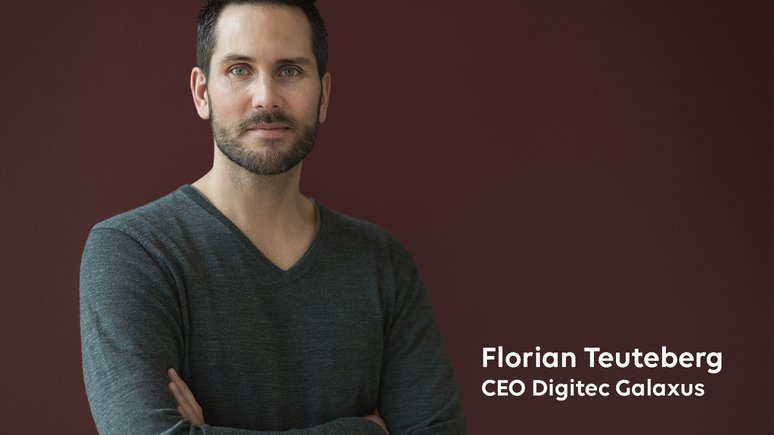 Swiss online market leader Digitec Galaxus has retained its unique culture despite undergoing many changes. CEO Florian Teuteberg explains the recipe for success.
Three friends set up Digitec Galaxus in 2000. They were industry newcomers, unencumbered by any industry expertise and primarily driven by their own demands as gamers on the suppliers of gaming PCs and components. Today the company is considered the online market leader in Switzerland, although it has eleven physical stores meanwhile. Digitec Galaxus is Switzerland's version of the great entrepreneurial pioneering achievements brought to life by the internet. The company was already part of the E-Commerce Report Switzerland panel in 2009, when it had around 150 employees. In the meantime, there are eight times as many and in 2019, the billion franc mark in sales was cracked.
Despite the growth, despite diversification of the business with Galaxus, the transformation of the business model and despite the takeover by Migros, Digitec Galaxus has managed to retain its unique culture. This was the reason for some specific questions for CEO Florian Teuteberg.
This interview is part of Chapter 8 of this year's E-Commerce Report Switzerland. It sheds light on how the study participants seek to assert themselves in a networked world of commerce. The 2020 study and all previous editions can be downloaded here free of charge.
The Digitec Galaxus culture
Mr Teuteberg, again and again your team brings new and often unusual products and services to the market, not to mention all kind of ventures to test the water. Even as a billion-franc business, Digitec Galaxus seems to be extremely agile. How do you manage this?
Florian Teuteberg: Essentially it's because that is exactly what we are. As founders we never adopted an artificial culture. We just did what we did, delegating a lot of responsibility, placing a lot of faith in strong people and giving them a lot of autonomy. Especially when it comes to autonomy, I notice more and more that this is something which makes us very different from other companies.
It is possible to see how that works for a start-up, but in the meantime you are well over thousand people.
Florian Teuteberg: We didn't deliberately set out to develop like this. Our culture must have started from us, the founders, and then passed on to the others. And we are always looking for people who work in a similar way to us, who we don't have to give instructions to all the time but who have a certain intrinsic motivation for something that they want to pursue.
Can this approach scale to multiple levels of management?
Florian Teuteberg: It propagates extraordinarily well – multiplying across all levels. Sometimes I have to pinch myself and I am happy to see that our branch in Hamburg has employed exactly the people that I would have chosen too. Our focus is on culture and a value-oriented approach. Recruitment is key, it is responsible for 90% of getting the culture right. Changing it afterwards doesn't work.
And it works just like that for you?
Florian Teuteberg: We have tried to put our values into words – you can read them on our website. We put a lot of thought into this process. And we've also developed our management principles on this basis. But actions speak louder than words.
What happens if you don't match after all?
Florian Teuteberg: Then we go our separate ways. The system is self-regulating. People who aren't a good fit will automatically find a way out. Especially those who have a high demand for control. People who try to have everything just so, who need clearly defined boundaries. They don't thrive in our environment, they despair. Here you have to create meaning for yourself, define your role and think about your contribution to the system as a whole and keep on questioning yourself. Some people just can't cope with that.
The blog articles
It is obvious that people are given the freedom to express themselves from the original and sometimes even polarising blog articles that regularly feature in your newsletter and websites. Surely the opinions which are published there are not company doctrine?
Florian Teuteberg: That is exactly the point: the authors are relatively free and able to act autonomously. The important aspect is that the editorial department is commercially independent, which is a unique and courageous move for a retailer that is dependent on selling products. There are no rules on which products have to feature in the texts. We measure the quality of the articles according to how attractive they are for the reader. It is important to us that they are interesting for our audience.
This puts you on the threshold of a lifestyle magazine or blog. Looking at «Tod durch SMS» (Death by SMS), which was a harsh criticism of factory farming, it is difficult to see how it relates to your company.
Florian Teuteberg: Yes, that was an unusual and very personal article. But fundamentally we accept subjective opinions. We once published an article with the title «Warum ich ein Apple-Hasser bin» (Why I am an Apple hater), which wasn't universally well received. The subjective point of view is what makes it stand out. Our articles are given life by the people who write them and their opinions. We don't simply want to convey information, we want to entertain our audience with stories and personalities.
Digitec Galaxus and Migros
Five years ago Migros acquired a majority shareholding in Digitec Galaxus and would perhaps love a slice of your dynamism. How can your organizational expertise be translated to a traditional firm like Migros?
Florian Teuteberg: Simple answer: It's not easy. Our dynamic comes mainly from our people's mindset, combined with the tools and methods we use. You cannot simply transfer that to a different organisation. Nevertheless, I do see opportunities where small units are created to try out and establish new working practices. These can then spread out to other parts of the organisation.
Will the dynamic online player culture persist once the investment and expansion phase are completed and efficiency becomes the priority?
Florian Teuteberg: Yes definitely! You don't get growth occurring in isolation, there is always a balance to be found between growth and efficiency. In a digital, technology-based environment, our culture is the foundation for success in both phases.
There is often a conflict between the older parts of the organisation that provide the funds for investment and the newer areas that burn it up. What is the best way to resolve or work around this conflict?
Florian Teuteberg: It comes down to sound commercial management of the new business units. Not simply feeding in cash just for strategic reasons and nothing else, but having an idea of how the business can be successful. You have to build up to being competitive in a new model too. The focus has to be on increasing the value of the company. In e-commerce businesses, the expectations are more around growth than dividends. If you just have a prospect of a successful, growing business model with the potential for making profit, that is generally relatively well valued. A traditional corporation needs to treat its e-commerce businesses in a similar way.
Thank you for the interview, Mr Teuteberg.