Your Online Shop: Three-Step Guide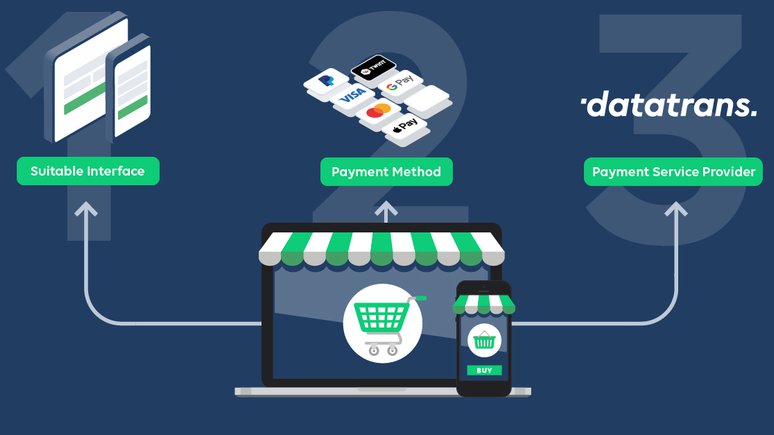 You are interested in an online shop with a payment solution and you would like to know how to do it as quickly and simply as possible. We will show you in three easy steps what do do, what you need and how to proceed.
To sell your products and services on the Internet you need the following things:
1. Online Shop
You need an online shop with an interface to a payment solution (development or installation).
2. Means of payment
You need acceptance contracts with financial institutions (Acquirers) covering the means of payment you wish to offer your customers.
3. Payment Service Provider
You need a processing contract with a payment service provider (e.g. Datatrans).
We give you free, personal consultation which includes advice on choosing the right shop and/or integration partner as well as the choice of payment methods to suit your products and services. Please contact us for individual advice.
1. Online Shop 
Choosing the right online shop!
The right shop for your needs
There are numerous online shop solutions – for different requirements and in every price category. If you have not decided yet, take your time. Make sure your requirements are covered as fully as possible.
In addition to the price, look at aspects such as upgradeability, implementation cost/support, and existing interfaces to up- and downstream integration systems.
Connection to the payment solution
Connection to a payment solution takes approximately half a day for a user with technical experience. The interface to the Datatrans payment solution is already available as a standard feature in numerous shops. Further professional support is available if required via our network with integration partners who will support you through the implementation of your online shop and payment solution.
2. Means of payment
Choose the right means of payment!
Which means of payment do you think your main target groups use for online shopping? And which means of payment are most suitable for buying your products and services? VISA and Mastercard have the widest acceptance. There are also further national and international means of payment.
Contract types: for cardholders who are and are not physically present
In cashless shopping a distinction is drawn between card-present transactions and remote transactions. Card-present transactions are those where the card and cardholder are present at the point of sale – whereas remote transactions are those where neither the card nor the cardholder are present at the point of sale. The latter would include, for example, all orders placed via the Internet (3-D Secure e-Commerce) as well as orders placed in writing or by phone (mail-/phone order).
Acceptance contracts
For every means of payment you choose you need to conclude acceptance contracts with individual financial institutes for remote transactions. This applies even if you already have an acceptance contract for specific means of payment for card-present transactions.
The financial institutes you choose are your business partners who will pay out your sales proceeds in future after deduction a turnover-dependent commission.
Most important means of payment for the D/A/CH area:
CH: Mastercard, Visa, PostFinance, PayPal
DE: SEPA-Lastschrift, PayPal, SOFORT, Mastercard, Visa
AT: Mastercard, Visa, PayPal, SOFORT
3. The Payment Service Provider
Choosing the right link!
The payment service provider's role
The payment service provider (PSP) is the technical link between your shop and the individual financial institutes. It enables you to process payment transactions effected with a variety of payment methods via a single interface.
The payment process is split into two sub-processes
Firstly, the validation of the payment method used (the authorization), and secondly, the actual clearing of the payment (the settlement = activation of money flow). For secured payment processes requiring a password, there is an additional step involving the authentication of the purchaser (3-D Secure). The PSP levies a fixed charge – the transaction charge – for handling this process.
Transaction charges
The transaction charges (transaction = authorization with reply from the card organization; the settlement is
included) vary by a few cents according to the payment method, the billing model (transaction package or monthly invoice) and the number of transactions that have been processed (sliding-scale prices). In addition to the actual payment transaction we provide you with a web interface (backoffice) with which you can manage transactions (issue credit notes, etc.) and perform analysis and evaluation.
Money flow
Important: Datatrans is not involved in the money flow – you receive payments from sales directly from the financial institutes with whom you have concluded acceptance contracts.
Do you have any further questions? Don't hesitate to contact us: [email protected], or by phone: +41 44 256 81 95